Bringing an entrepreneurial approach to finding health solutions
At first glance, the gap between start-up companies and BC's publicly funded health care system might seem huge. Start-ups are typically led by entrepreneurs who are willing to take risks and move quickly to bring a new idea to the world. Given the complex nature of our health care system, change tends to happen more gradually, with lots of checks and balances along the way. But with technology advancing by leaps and bounds, start-ups and the health care system should work together to implement innovations that can improve the health of British Columbians.
Bridging the gap between entrepreneurs and the health system
PHC Ventures is the independent innovation and commercialization arm of Providence Health Care (PHC). The team at PHC Ventures works to identify, nurture, and deploy innovations that advance health care and, in turn, generate proceeds that can be reinvested back into PHC and the health system.
PHC Ventures connects health care providers with private companies to bring to life new ideas that can improve patient care. For example, they connect a life sciences company that wants to test its new medical device in a real-life setting with an appropriate PHC clinic. They might also arrange for PHC doctors to consult on the development of a new app by a health technology company. PHC Ventures also supports PHC staff who have ideas for a product or technology and who need advice and funding to make it happen.
Creating an entrepreneurial engine at PHC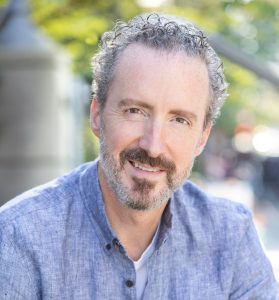 "My vision for PHC Ventures is that we have a world-class entrepreneurial engine to support the new St. Paul's Hospital campus," says Brian Simmers, CFO, VP Health Informatics and Corporate Development, and Head of PHC Ventures. "We will have the supports and capital expertise to bring new ideas to life and this will help attract the best clinicians and research innovators who can provide the best patient care."
Providence is ideally positioned to realize that vision; it's small enough to try new things and can serve as an incubator for new ideas. The PHC Ventures team has deep knowledge of the Canadian health care, regulatory, and technology sectors, making it a desirable business partner for private sector companies.
"PHC Ventures helps us make health care welcoming to start ups. Our team acts as guides or navigators to help start-ups interact with the health system," says Brian. "This also benefits us because these companies have tools and technologies we can use to improve how we deliver care to our patients."
Leveraging partnerships
One of PHC Ventures' first projects was to partner with BC Cancer, Meta Optima, Change Health Care, St. Paul's Foundation, Careteam, the University of British Columbia (UBC) and the University of Victoria on a Dermatology Point-of-Care Intelligent Network. This tool allows physicians to take photos of their patient's skin abnormalities and upload them to the cloud. Drawing on a database powered by artificial intelligence, dermatologists can review these images for any potentially cancerous abnormalities. PHC Ventures helped project partners' access funding from the Digital Supercluster, an organization that accelerates Canadian research, development and technology.
Another of PHC Venture's early projects was to partner with Change Healthcare, Clarius, UBC , St. Paul's Foundation, and the Rural Coordination Centre of BC on the Intelligent Network for Point-of-Care Ultrasound (IN-PoCUS) project. This system allows health care providers in rural and remote communities to use a handheld scanner to take ultrasound images right in their offices.
"With Providence's lead as a health care organization, along with our partners from the academia, business and the engineering worlds, we were able to build something much better than any of us could have done on our own," says Dr. Oron Frenkel, a physician in the St. Paul's Hospital Emergency Department and the person who first had the idea for the IN-PoCUS project.
Make PHC Ventures a reality
Brian knows what it takes to get a new company off the ground and is willing to roll up his sleeves and work with the team to get the work done. His background includes experience with various technology and start-up companies. He was part of an organization that commercialized software that prevented people from using their phones while driving and he has taken a start-up public on a stock exchange.
"My role at PHC Ventures allows me to bring my entrepreneurial spirit to enhance our health care system," says Brian. "I'm excited that PHC is innovative, creative and courageous enough to take the lead in this space."
PHC Ventures is one element of Innovarium 360°, PHC's innovation ecosystem that supports research, development, testing and implementation of novel ideas, new models of care, and new tools, all with the goal of sustainably improving health outcomes. By connecting innovators, leading researchers, practitioners, and industry partners, Innovarium 360° helps make evidence-based change happen.
Watch PHC News for more stories on PHC Ventures projects. If you have an idea for a product or technology, contact info@phcventures.ca to see how the Ventures team can help.